High-throughput proteomics
has long lasting experience with the OLINK® Proximity Extension Assay (PEA) – technology for targeted high-throughput proteomics analysis and acts as service provider, supporting customers from experimental planning & study design to pre-analytics processing and standardisation, sample analysis, bioinformatic data analysis, visualisation and interpretation. A broad range of assay formats enables your proteomics analysis at different scale for several sample types and various applications.

Having a broad technology portfolio including OLINK® technology, AIT-Molecular Diagnostics offers also multi-omics analysis.
AIT is ISO9001 certified and have been qualified by OLINK to provide services based on Olink® technology.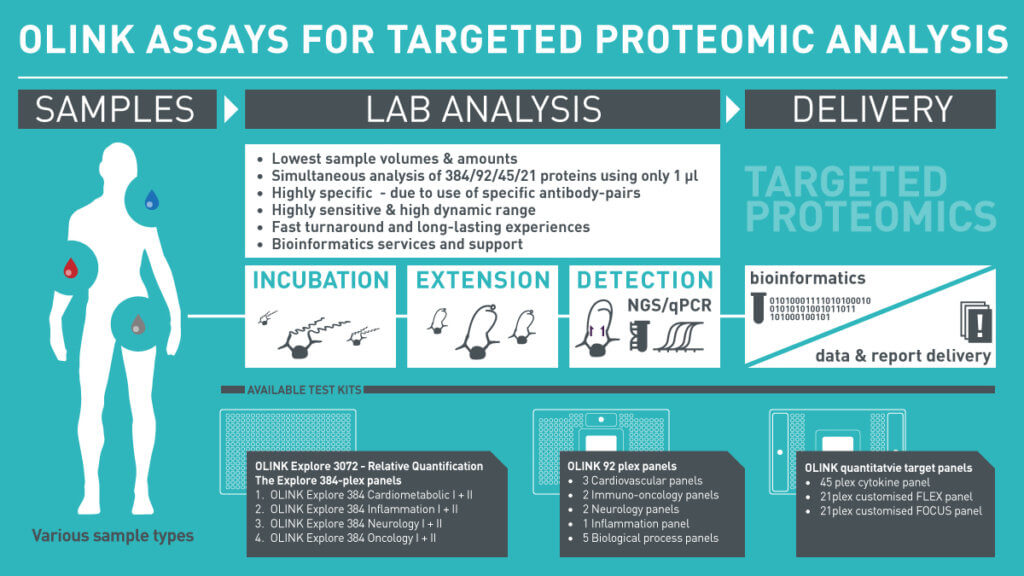 Image(AIT): Olink assays for targeted proteomics analysis
OLINK® Proximity Extension Assay (PEA) - technology
OLINK® PEA technology is based on the detection of biomarkers generated by binding specific pairs of DNA-tagged antibodies. Matched DNA-tags form hybridization products, and Proximity Extension Assay (PEA) technology forms reporter-templates for multiplexed PCR amplification enabling high-throughput detection of the DNA-reporter-sequences by qPCR or NGS. Due to PCR amplification, this technology allows parallel quantification of many markers over a wide range of several orders of magnitudes, although when biomarkers are present at very different levels in the original specimen. Thus relative quantification of panels of 92, 384 or a total of 3072 biomarkers can be performed from minute amounts of sample volume in a very efficient manner.
See: https://www.olink.com/our-platform/our-pea-technology/

high-throughput proteomics compatible with different sample types
low sample consumption
high specificity due to use of of target specific antibodies pairs
high sensitivity & wide dynamic range – due to PCR-based readout
optimised biomarker detection range according to human serum & plasma
broad range of clinically and biologically relevant panels available for discovery and / or confirmation –  and customised flex panels for e.g. validation
OLINK® Proximity Extension Assay (PEA) -technology provides powerful proteomics analysis. The power of this technology and the broad variety of applications are reflected be a stunning high and rapidly growing number of scientific  publications – by end of 2022 over 1100 scientific publications.
protein biomarker studies, – diagnostic, prognostic, predictive and stratification
treatment response studies
multi-omics – ideal & simple supplement in combination with other omics-studies
understanding human biology
drug discovery and development
…and many more applications and settings – see relevant publications & whitepapers
Sample sending and (pre-)processing
Usually diverse sample types as indicated in the specific sections can be processed without any specific requirements. In certain cases and upon request AIT can offer pre-processing like protein concentration measurements for standardization, sample concentration or dilution and aliquoting samples for specific project settings. These requirements should be defined and considered in advance.
Sample sending: sample-volume 30µl in 96 well plate (v-bottom – skirted) / tightly closed / sealed with aluminium foil suitable for -80°C, please spin down before freezing and send on dry ice.
SAMPLE LAYOUT and positions in the plate has to be defined according to the experiment descriptor layout and provided via email according to the attached file "OrderSheet.xlsx". Provide the reference number of the offer in the respective field.
Shipping address:
OLINK SERVICES
Molecular Diagnostics
Center for Health & Bioresources
AIT Austrian Institute of Technology GmbH
Giefinggasse 4| 1210 Vienna | Austria
– Optionally AIT can send back left-overs from samples at customer's expensed – please let us know.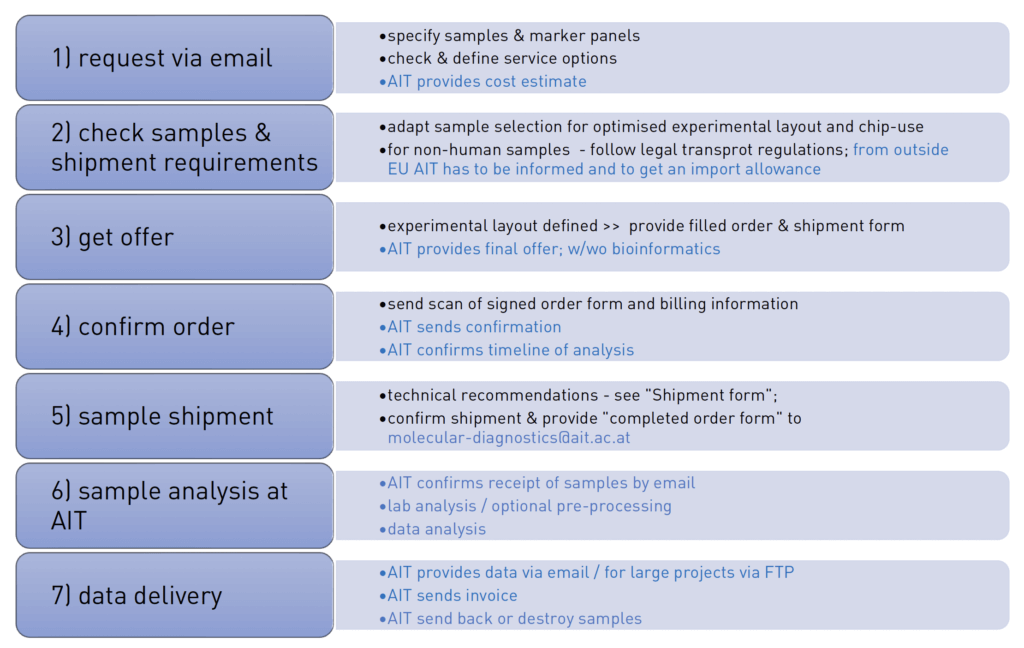 Lists of available makers:
Analysis request:
Please contact us via email to molecular-diagnostics@ait.ac.at – we will respond within one business day.
Shipping address:
AIT Austrian Institute of Technology GmbH
Center for Health & Bioresources
Competence Unit Molecular Diagnostics
OLINK® SERVICES
Giefinggasse 4
1210 Vienna
Austria